Our DVD's are produced from the original studio masters which provide excellent SD audio and video quality!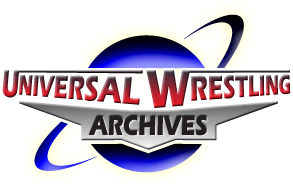 Universal Wrestling Archives
Universal Wrestling Archives sells: Professional Wrestling Merchandise, MSW Mid-South Wrestling DVD, PPW Power Pro Wrestling DVD, UWF Universal Wrestling Federation DVD, Pro Wrestling TShirts, House Show Series DVD and Pro Wrestling Books.

*UWF(Universal Wrestling Federation) was the #1 Syndicated Sports Program in America! *source November 1986 Arbitron Ratings.

We strive to provide the best service in our industry and stand behind every item we sell. We hope you enjoy visiting our store and are pleased with every purchase you make. We guarantee our products to be free from defects. We will replace defective products, otherwise, we
do not
accept returns.
Supplies are limited so make your favorite purchases in a timely manner! We have sold the masters to WWE(World Wrestling Entertainment) and once the remaining inventory is gone, that is it.
*Attention International Buyers, please send an email with the item numbers and your zip code for a shipping quote before placing your order!